MainConcept to Demo Cloud-Ready 8K Broadcast Technology and Other New Products at the NAB Show
Providing the essential ingredients used in processing 90%+ of today's professional video, MainConcept leads the way to 8K codec technology
San Diego, California; Aachen, Germany – April 20, 2022 – MainConcept, the leading provider of codecs for production, broadcast and streaming technologies, announced exciting technology demos, new partners and product innovations they will show at the NAB Show 2022. At their booth (#C4718), MainConcept will highlight their advancements in 8K-optimized cloud encoding and illustrate why MainConcept's technologies are essential ingredients used in processing over 90% of today's professional videos.
"After three years, we are excited to return to NAB and reconnect with our industry friends and colleagues. While apart, the professional video market - and our business - has continued to grow at a rapid pace," said Deacon Johnson, Senior Vice President, Technology Licensing & Strategy, MainConcept. "We've expanded our codec lineup to offer optimized ARM architecture compatibility, increased our portfolio of professional FFmpeg plugins, and enhanced our flagship and high performance HEVC products to support cloud-ready 8K-to-HD live encoding workflows on a single low-cost server. I couldn't be more proud of the MainConcept team."
8K in the cloud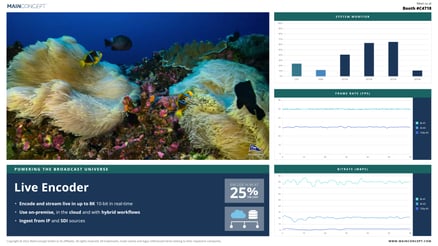 8K resolution has gained traction in the market the past few years with more devices supporting it, especially on the capture side. While playback devices have trailed in availability, they are now more readily available to consumers. With the expectation of 2022 as a big year in 8K device growth, MainConcept has advanced the capabilities of its codecs to efficiently encode high-quality 8K video. As with other resolution jumps, broadcast will lead the way, and MainConcept solutions for this use case, both in the cloud and on premise, provide the quality, performance and reliability that MainConcept has developed over the past three decades in the industry.
At NAB, MainConcept will showcase its innovative cloud solution, encoding 8K content in real time via remote AWS instance, delivering it live to their booth in the Las Vegas Convention Center, complete with a dashboard visualizing system performance, frame rate and bitrate. This demonstration uses multiple MainConcept technologies, including their Live Encoder (powered by the industry-leading HEVC/H.265 encoder) and Hybrid GPU acceleration. This 8K encoder can deliver more live channels or ABR layers per system at a fraction of the cost of traditional solutions.
MainConcept will also be displaying a version of the demo at the 8K Association booth located within the Futures Park (booth # W5237).
Essential ingredients
Since 1993, MainConcept codecs have been the backbone for thousands of video and audio workflows, from the largest global broadcasters to at-home content creators. While a one-size-fits-all video workflow clearly does not fit all use cases, creators universally crave simplicity and flexibility. That is why MainConcept has developed the software to meet almost any broadcast, production or streaming workflow need across its SDK, application and plugin product lines.
MainConcept codecs enjoy compatibility across a myriad of technical requirements, from operating systems (Windows, Mac and Linux) to processor architectures (x86 and ARM), and even unique hybrid encoding options for Intel Quick Sync Video and NVIDIA GeForce RTX graphics cards.
MainConcept codecs are available in more places than ever before.
MainConcept plugins for FFmpeg now total five, including new additions for xHE-AAC audio encoding (in cooperation with Fraunhofer IIS) and MPEG-2 Transport Stream Broadcast Delivery.
MainConcept Codec Plugin for DaVinci Resolve Studio was the first plugin authorized by Blackmagic Design and continues to attract attention from their dedicated base of creators.
MainConcept OTT Content Creation for GStreamer SDK embraces the simplicity of the GStreamer framework and supports numerous MainConcept codecs and components.
MainConcept WebASM HEVC Decoder SDK, supporting the WebAssembly standard, continues to be the ideal solution for secure browser-based workflows that require HEVC preview, playback, editing or monitoring.
MainConcept will premier their new Content Creation Lab at NAB. This tool uses MainConcept plugins for FFmpeg to show real-life encoding examples for xHE-AAC, Sony XAVC, Panasonic AVC Ultra, Hybrid HEVC and TV Broadcast. Their team will also be on hand to highlight how MainConcept delivers the essential ingredients that power the digital video universe. This includes the indispensable MainConcept MXF, MUX and DEMUX solutions that add battle-tested reliability for video ingest and packaging for a wide range of Pro Camera Formats, Broadcast frameworks and Transcoding services.
Industry Activity
On the partner front, MainConcept has been actively expanding existing relationships and creating new ones. Highlights include:
BBright
BBright, a specialist in advanced media and broadcast processing and technologies, has integrated the MainConcept AVC/H.264 Broadcast Encoder SDK into their live production and broadcast solutions to support the Sony XAVC professional file format. Now able to record more types of video feeds, BBright production and playout solutions address an even greater number of applications in the media industry.
Fraunhofer IIS
Fraunhofer IIS and MainConcept continue their advancement of the xHE-AAC audio codec via the MainConcept xHE-AAC Plugin for FFmpeg and the latest MainConcept SDKs. At NAB, both companies are demonstrating the plugin in their booths using MainConcept's new Content Creation Lab. This tool lets visitors easily test encoding using the latest technologies and only a browser while viewing processing time, encoded files, logs and command line parameters, a sure treat not just for audiophiles but audio professionals as a whole.
Nikon
The Nikon Z 9 digital camera with mirrorless video recording records up to 8K video into HEVC/H.265, AVC/H.264 and Apple ProRes formats. Through testing, MainConcept confirmed that their Codec SDK can decode those formats, as well as transcode them into different formats. The camera will be on display in the MainConcept NAB booth for visitors to experience firsthand.
Telestream
Telestream a leading provider of media processing, workflow automation, quality monitoring as well as test and measurement solutions, is a long-time MainConcept technology partner. Our technology collaboration continues with Telestream's use of MainConcept encoder and decoder SDKs in solutions such as Vantage, VidChecker and ContentAgent. More recently, Telestream has incorporated MainConcept codecs on ARM processors, enabling products such as Switch and Wirecast to make use of this technology for a broad range of users both large and small.
Veset
Veset has partnered with MainConcept, to ensure compliance with more traditional hardware systems and analyzers. They have integrated MainConcept technologies, including OTT Content Creation for GStreamer and the HEVC/H.265 and AVC/H.264 Encoder SDKs, into select products. This will greatly assist linear TV providers who are challenged with rising competition from OTT and need to adapt to remain relevant. Being able to integrate with more traditional hardware makes it easy for customers to transition to cloud or hybrid workflows without losing any quality.
MainConcept's customer list extends well beyond these companies and includes industry heavyweights like Adobe, Autodesk, Avid, Corel, Dalet, Endeavor Streaming, EVS, Grass Valley, MAGIX, PlayBox Neo, Ross Video and Sony.
Find MainConcept at NAB
The MainConcept team is available for meetings from April 23 to 27 at the LVCC, booth C4718, in the Central Hall. To get a more in-depth NAB preview from MainConcept and some of their partners, view their most recent webinar on demand.
About MainConcept
Since 1993, MainConcept has provided best-of-breed video/audio codec solutions for professional video production, multimedia, broadcast, digital signage, gaming, medical and security industries. Our software development kits, transcoding applications and plugins are used across industry verticals to meet an ever-expanding list of use cases. With world-class engineering, exquisite attention to detail, and best-in-class support and professional services, we are constantly innovating to deliver the simplicity needed with the customer experience you deserve. MainConcept codecs are engineered to surpass the challenges of even the most demanding use cases and are used by organizations such as Adobe, AVID, Autodesk, Corel, Dalet, Endeavor Streaming, Grass Valley, MAGIX, Nikon, PlayBox Neo and Sony. Visit www.mainconcept.com.
All trademarks, trade names and logos referenced herein belong to their respective owners.