SABET
Efficient multi-layer encoding for OTT streaming!
Reduce your the total encoding time by over 30%
with SABET.

1
Smart Adaptive Bitrate Encoding Technology (SABET™)2 gives you intelligent adaptive bitrate (ABR) encoding in a single instance by sharing processing data across up to 12 different profiles, reducing the total encoding time by over 30%.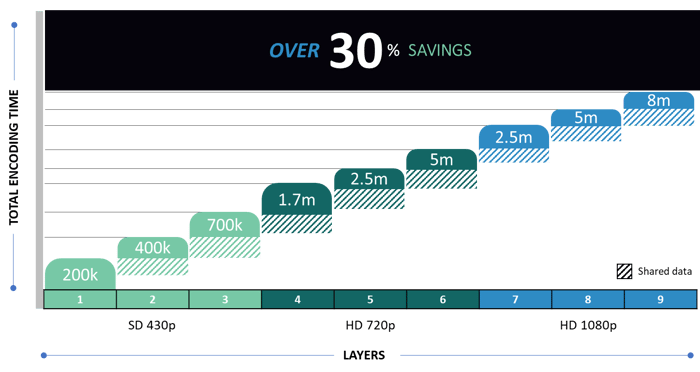 Eliminating redundant steps in Adaptive Bitrate (ABR) encoding
In a typical workflow, each encoder goes through the same, basic steps of motion estimation, image analysis and encoding, using the same input image. These are redundant and often unnecessary steps. MainConcept engineers dug deep into every step in the encoding process, identifying which are redundant in ABR encoding. The findings led to the creation of SABET.
How it works
SABET revolutionizes the encoding process by utilizing a single encoder instance that efficiently generates all ABR rungs simultaneously, eliminating unnecessary steps. This advanced encoder is fed with a single input stream in its full resolution, unleashing its power to produce up to 12 renditions with varying resolutions and bitrates.
By adopting this innovative approach, setting up the encoder becomes a breeze as all renditions maintain the exact same IDR frame placement and structure. From an encoding perspective, SABET reduces processing requirements by up to 30% for a typical HLS bitrate ladder. This means your encoding jobs can be completed swiftly and cost-effectively, surpassing the limitations of traditional single-instance encoding.
The benefits of using SABET
SABET improves processing efficiency for both live and VOD workflows.
Reduces the overall CPU power needed for encodings of the bitrate ladder, especially for VOD and distributed transcoding farms
Eliminates the decoding step for each transcode after the first decode
Does not require a large source file to be copied to all server nodes over the network
This leads to a decrease in processing time and CPU usage, resulting in lower overall expenses for delivering your content.
U.S Patent #s 9,357,210; 9,532,080; 10,178,399

Compared to MainConcept HEVC encoder without SABET