xHE-AAC Encoder



Content Creation Lab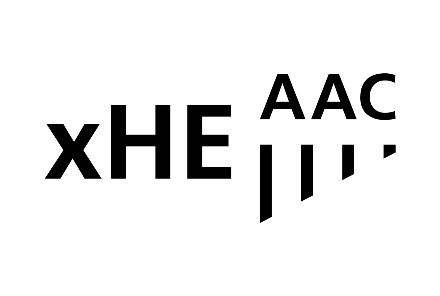 The latest generation of the AAC codec family from Fraunhofer, with xHE-AAC™ audio you get:
Enhanced quality at low bitrates, particularly on spoken content

Seamless switching over a 12–500 kb/s bitrate range for adaptive streaming delivery

Mandatory loudness and dynamic range control support
Test with the MainConcept Encoder plugin for FFmpeg to hear how your content will sound with xHE-AAC audio
*Decoding options based on target device:
General Purpose: Rendered to -24 LUFS target loudness (average). Application of mild, general purpose dynamic range compression. Suitable for playback over built-in TV speakers, for example.
Home Cinema: Rendered to -31 LUFS target loudness (soft). No dynamics processing: Maximum dynamic range for playback over high end audio systems.
Mobile Device: Rendered to -16 LUFS target loudness (high). Higher playback level at the cost of stronger dynamic range compression. Suitable for playback over speakers with limited SPL range, such as mobile phones.
xHE-AAC decoding is available in Android and iOS, with support for other platforms in development.
"xHE-AAC™" is a registered trademark of Fraunhofer-Gesellschaft zur Foerderung der angewandten Forschung e.V. in Germany and other countries.